The Pioneer Plaque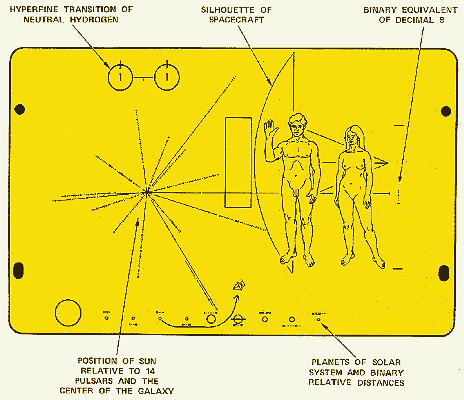 Plaques bearing this engraving were attached to the Pioneer probes 10 and 11. These probes were launched on 2 March 1972 and 5 April 1973 respectively.




An "average" man and an "average" woman stand before an outline of the spacecraft. The man's hand is raised in a gesture of good will to any "alien" who might find the plaque.




It was assumed that "advanced civilizations" would know enough about hydrogen to translate the message.




A map showing the Sun's position in the Galaxy was included to show "them" how to find us.




Pioneer 10 is now 6.6 billion miles away, being the farthest man-made object from the Earth. It is travelling towards the constellation Taurus, and is expected to arrive in 2 million years time.




As far as we know, no "alien" or "advanced civilisation" has yet seen the plaque!

Page last updated on November 8 2000

Comments/enquiries: a.wolff@ucl.ac.uk