Academic Staff - Prof Geoffrey Ozin - Materials
Inorganic chemistry
Self-assembly
Polymers
Supramolecular design
Crystal engineering

tel (London): +44 (0)20 7679 7528
fax (London): +44 (0)20 7679 7463
internal: 27528
tel (Toronto): +1 416 978 4735
fax (Toronto): +1 416 971 2011
email:gozin@chem.utoronto.ca
Prof Ozin is an Honorary Professorial Fellow in Materials Chemistry. His position is joint between UCL Chemistry, the Royal Institution, the University of Toronto , and the Canadian Institude for Advanced Research (Nanoelectronics Group).
The latest research by Professor Geoffrey Ozin and his materials chemistry research group utilizes self-assembly synthetic methods to organize inorganic, organic, and polymeric building-units into materials with novel chemical and physical properties and unprecedented structural features that span angstrom to millimeter length scales. The synthetic methodologies used by the group embrace concepts in molecular and supramolecular templating, colloidal and layer-by-layer assembly, soft-lithography, host-guest inclusion, and biomimetic chemistry. The work pointed the way to a panoscopic view of materials chemistry and the idea that inorganic and hybrid inorganic-organic and inorganic-polymeric materials can be synthesized in a rational way and over "all" length scales, by integrating methods of molecular and supramolecular design, self-assembly and self-organization, and crystal engineering. The broadly tunable length scale, shapes, structures, compositions and properties of materials to emerge from the group are of great interest in areas as diverse as catalysis and membrane science, chemical sensing and bone implants. More high technology utility for the materials may be found in electronics, optics, photonics and data storage.
Further information about Prof Ozin's research is available from his research group's webpage at the University of Toronto.
On December 14 2000 Prof Ozin was awarded a prestigious Canada Research Chair in Materials Science. He is also Principal Investigator with Photonics Research Ontario .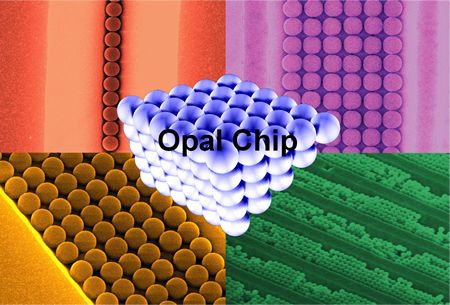 A picture of the OPAL chip, described in S. M. Yang and G. A. Ozin, Chem. Commun. , 2000 , 2507-2508.
This page last modified 9 August, 2010