History - People - George Frederick Donnan



George Frederick Donnan
(6.9.1870 Colombo (Ceylon, Sri Lanka) - 16.12.1956, Canterbury, Kent)

Tenure:
Assistant Lecturer 1897 - 1903
Professor 1913 - 1928
Head of Department: 1928 - 1937
Donnan was educated in Belfast. He later worked with Wislicenus, van't Hoff, and Ostwald in Germany, and thus helped introduce the 'new' physical chemistry into Britain. He joined the department in 1897, shortly after the appointment of Wallace Walker.
He is shown below in a Departmental photograph from about 1888/9. Robert (Whytlaw) Gray is just behind him to the left.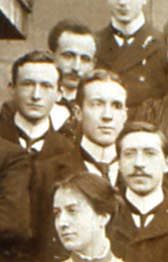 Donnan worked in the Department for several years, his work including studies of deviations from Graham 's law of effusion, and was co-editor with Ramsay of a very successful series of Textbooks of Physical chemistry, published by Longmans and Green. Amongst these was E. C. C. Baly's "Spectroscopy" of 1905.
In 1904 he was appointed to a chair at Liverpool University. He rejoined UCL in 1913, as Professor of Inorganic and Physical Chemistry. During the war years he was drawn into the industrial production of 'synthetic' ammonia and nitric acid. His major contribution was the theory of membrane equilibrium. This had important applications in colloid chemistry, and above all, in the understanding of the living cell. He wrote no book but was author of more than a hundred papers.
For more information on the Donnan equilibrium see the animated lecture from Texas A & M (2.1 Mb).
In the years before the war, Donnan was very involved in helping scholars, many of them Jews, emigrate from Germany and Austria. Amongst these were Jahn and Teller who wrote their famous paper on the distortions that bear their name while at the Royal Institution and UCL respectively.
Donnan, who was blind in one eye is depicted in profile above in a manner reminiscent of Piero della Francesca's famous portrait of the Duke of Urbino, Federigo da Montefeltro (in the Uffizi Gallery in Florence) shown below: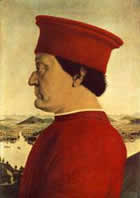 Were you an undergraduate or doing graduate studies during Donnan's tenure? Have a look at our " Remembering Donnan " page.
---
This page last modified 20 September, 2010