History - People - Alan MacColl



Alan MacColl
(1914-1999)

Tenure:
Lecturer 1947 - 1953
Reader 1953 - 1963
Professor 1963 - 1981
Professor Emeritus 1981 - 1999
Allan Maccoll was principally known as a mass spectrometrist in the department.
Although born in Edinburgh, Maccoll grew up in Australia and attended the University of Sydney from 1932 to 1937, gaining the B.Sc. degree in 1936 and the M.Sc. degree in 1937. While he was at the University of Sydney he was awarded a "blue" for swimming and was elected President of the Science Association, Chemical Society, and the Sports Union. After a short spell in chemical industry, he returned to the University as an Assistant Lecturer.
In 1945, while a senior lecturer on the staff of Sydney University, he was awarded an Imperial Chemical Industries fellowship by the University of London, which enabled him to continue his work on the kinetics of gas phase reactions in Ingold 's lab at UCL. In 1947 he was appointed to the staff there as lecturer, obtained his PhD in 1949 (how times have changed, eh?) and in 1953 became a reader. His appointed Professor of Chemistry in 1963. He was awarded a D.Sc. in 1960. In 1963 was elected a Fellow of the Royal Institute of Chemistry. His research interests included quantum chemistry, the kinetics of gas phase reactions, both thermal and photochemical, the application of mass spectrometry and ultrasonic dispersion in gases.
Alan remained active in research well into his eighties and was a familiar figure at morning tea in the Nyholm room almost up to his death in 1999.
A portrait of Alan used to hang in the Nyholm room, and is held in particular affection by staff and students alike for its delicate treatment of the hands......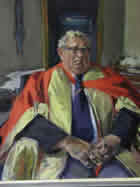 Maccoll wrote a fascinating memoir on Australian chemists at UCL, which also summarizes the development of the Department between 1899 and 1988. Ref: Ambix , 1989 , 36, 82-90.
---
This page last modified 20 September, 2010