History - People -
Henry Foster Morely



Henry Foster Morely
(1855 - Midhurst, Kent 1943)

Tenure:
Assistant 1880 - 1881
Lecturer 1883 - 1884
Assistant Professor 1884 - 1887
We believe Foster Morely to have been an undergraduate here - he is listed as having been president of the UCL Old Students Association for 1902-4, but we know little about him. Hired by Williamson he seems to have become Williamson's right hand man.
Morely does not seem to have been particularly active in research. In a letter to his future mother-in-law, Mrs Buchanan, in 1887, the newly appointed Ramsay wrote 'Foster Morely, who was Assistant Professor, is at work on Watt's Dictionary of Chemsitry, new edition, and he can give no time to the laboratory. So he and I must part. I haven't told him yet, for before absolutely deciding I must ask advice of Carey Foster, Williamson and others. I want to replace him by Collie '.
Williamson is seen below standing beside Ramsay in a Departmental photograph from around 1888-89.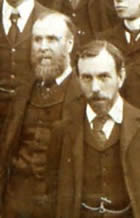 Morely became professor at Queen's College London and taught at the Charing Cross Medical School. Eventually, his writing skills must have taken over because he became an Editor of the Chemical Society's catalogues.
---
This page last modified 20 September, 2010